Now that I am on summer break I get to spend the whole month spending time with Little Miss, catching up on some housework and organization, getting down to some serious canning, and most importantly, happy hooky crochet time! I have a few different projects on the hook right now. Would you like to see? I know you do!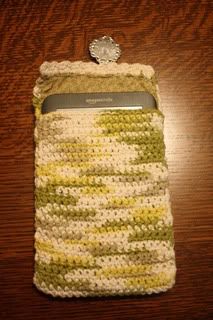 OK, so this is not currently in progress, but in fact is a completed project. Heavens, did I actually finish something?! I hate the icky made in China Kindle covers, and my poor Kindle needed something cute to wear. I love it. It is done in a cotton yarn, worked in a SC throughout.
Look at these pretties: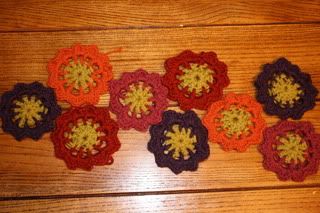 Aren't they scrumptious? I am on a mission to not buy yarn unless it is without a doubt a yarn emergency, so these are being made from scrap yarn. I really am going to make enough for a scarf. I love the fall tones. The pattern is a freebie from the Lion Brand website. You can find the pattern
here.
Lastly...my piece d' resistance:
The beginning of my giant granny afghan. The colors are a little wretched, no? In holding with no yarn buying, this is yarn I have on hand. Seriously, if you saw my yarn closet you would know why I am doing this. It is a little ridiculous. I kinda like it's ugliness though, don't you? I got the inspiration from
Bunny Mummy's blog.
Those Brits, they sure know how to make a beeeeautiful crochet project. Have you checked out
Attic 24?
Gorgeous stuff. Makes me want to pack up and move to the English countryside. Why doesn't the Navy have bases there? Humpf.
Can I also shamelessly brag for just a minute? MaryJane's Farm is my most favorite place in all internet land. And I was so humbly named Farmgirl of the Month for August. What a truly amazing honor! The women on the forum are the kindest, most wonderful, salt of the Earth people you will ever meet, and I am truly honored to be a part of the Sisterhood.
Well, off for more hooky time. I fully intend on getting these done this month...I will....I swear!