This post can also be found on another site I blog on: www.imnaturallysimple.com. Go check it out!
I have been getting ahead of myself these days with dreaming of Fall days. I long for the cool, crisp mornings, pulling out the sweaters, the smell of burning leaves, caramel apples, pumpkins…the list goes on and on. Living in the Midwest though, Fall can only be followed by one thing…winter. Cold, bitter, harsh, snow filled, icy winter. During this I time I will be longing for the warm, sunshiny days of summer, so I should be taking advantage of it now!
One way I can bring a little bit of summer into the bleak winter is by opening up a jar of something I have canned during the bountiful summer months. There is something about opening a jar of tomatoes grown from your very hand, or a crisp pickle that can bring some semblance of summer time to even the most dreary winter day. The epitome of summer for me is bright, fresh lemon taste. This lemon curd recipe will wipe away even the most serious Winter Blues!
Canned Lemon Curd
2 cups sugar
1/2 cup finely grated lemon peel
1 cup bottled lemon juice
3/4 cup chilled butter, cut into one-inch pieces
7 egg yolks
4 whole eggs
Preparation

Wash and sterilize half-pint jars, lids and rings. Fill water bath canner with enough water to cover filled jars by two inches and start heating water.*
Combine sugar and lemon peel; set aside.
Whisk together the egg yolks and whole eggs. Slowly whisk in the sugar and zest, blending until smooth. Add lemon juice and then the butter pieces to the mixture.
Cook, stirring gently, until the mixture reaches a temperature of 170 degrees.
Remove from heat and place on a protected surface, such as a towel or wooden board.
Continue to stir gently until curd thickens, about five minutes. Strain curd through a mesh strainer, discard collected zest.
Pour hot curd into hot half-pint jars, leaving 1/2-inch headspace. Wipe rims of jars with a damp paper towel and fasten lids and rings. Place jars in a 180-degree water bath (see note below) and increase heat. When water boils over tops of jars, process for 15 minutes. Let cool, undisturbed, for 12 to 24 hours, then check seals. Makes 3 to 4 half-pint jars.
* Use a thermometer to monitor water temperature: the water should be 180 degrees when you add the filled jars, so it will take about 25 to 30 minutes to reach boiling after you add the jars. (This extra heating time is necessary for safely processing this particular recipe.) Begin processing time when the water comes to a full boil over the tops of the jars.
Make sure to add a pretty label. After all, you just did all that work, you will want to show it off, and I think food is so pretty, don't you?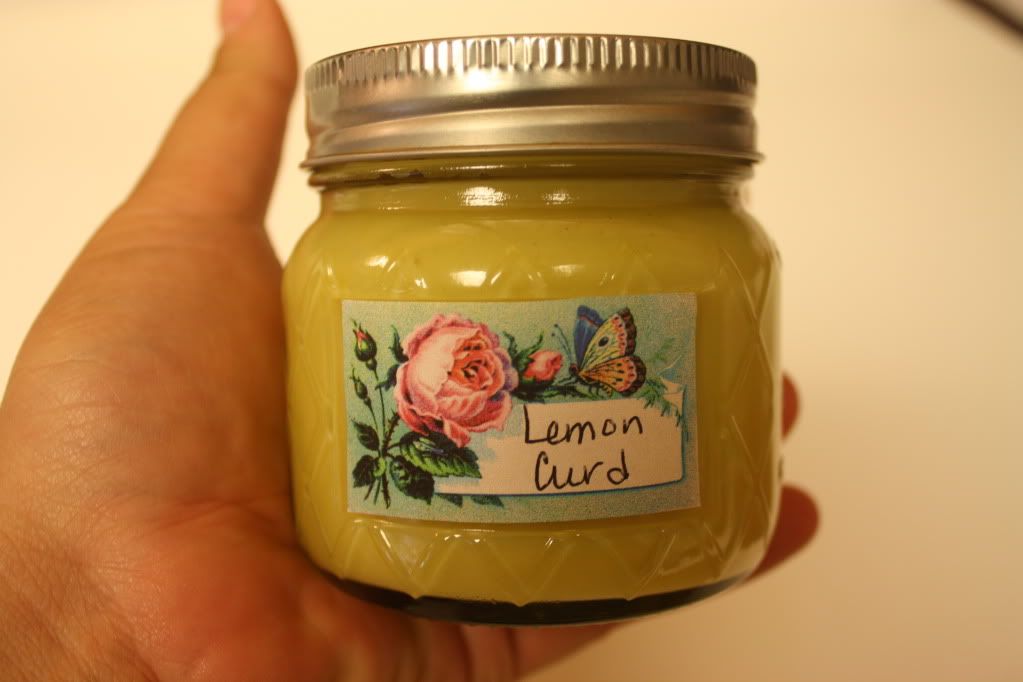 I get mine from the Graphics Fairy blog. You can check it out
here.
There is some controversy to canning this recipe. If you are concerned about canning due to the eggs and butter, this can always be refrigerated or frozen. The lemon juice should be bottled, due to the specifications of acidity in store bought lemon juice as opposed to freshly squeezed lemon (though, I will admit, I have used half bottled/ half fresh with no problems. Not recommending, just commenting here!)
This recipe is delicious on a slice of fresh baked bread, scones, English muffins, or made into a cobbler. I hope you it enjoy it as much as our family does!