Got your attention, didn't I!
Well, the reason they are calorie free is they are fakes. They will look real though, so it's still fun!
I love fall time. The colors, the crisp air, pumpkins, apple butter...bring it all on! I start thinking about it in July, and in August start trying to sneak some decoration into the house without being ostentatious. These caramel apples may to the trick for now!
Here are your supplies:
Fake apples. You can find these for cheapest at either Walmart or the Dollar Tree
Mod Podge. I love this stuff. THe glossy is nice for this project, but I had matte on hand.
Acrylic paint. Can you believe there is even a color called caramel? Perfect.
Sticks of some sort. I like the rustic look, but popsicle sticks are cute too.
Hot glue
Something to replicate fake topping. Coarse sawdust works, so does the natural kitty litter. I used steel cut oats for these because, well, I had them and I am on a budget.
Ribbon or any other fun fancies you would like to use.
The apples will have a little plastic stem that pops right off and when you take it off there will be a small hole there. Take a screwdriver or an awl and make the hole a little bigger. Pour some hot glue down there and then put the stick in. Let it dry for a little bit. While it's drying. mix the Mod Podge and glue. There is no exact ratio here, about half to half I guess. Pour over the apples, just like the real thing! Let this dry for a few minutes, otherwise when you put your "topping" on it will all slide down the sides and end up at the bottom. Not pretty. Don't ask how I know this happens.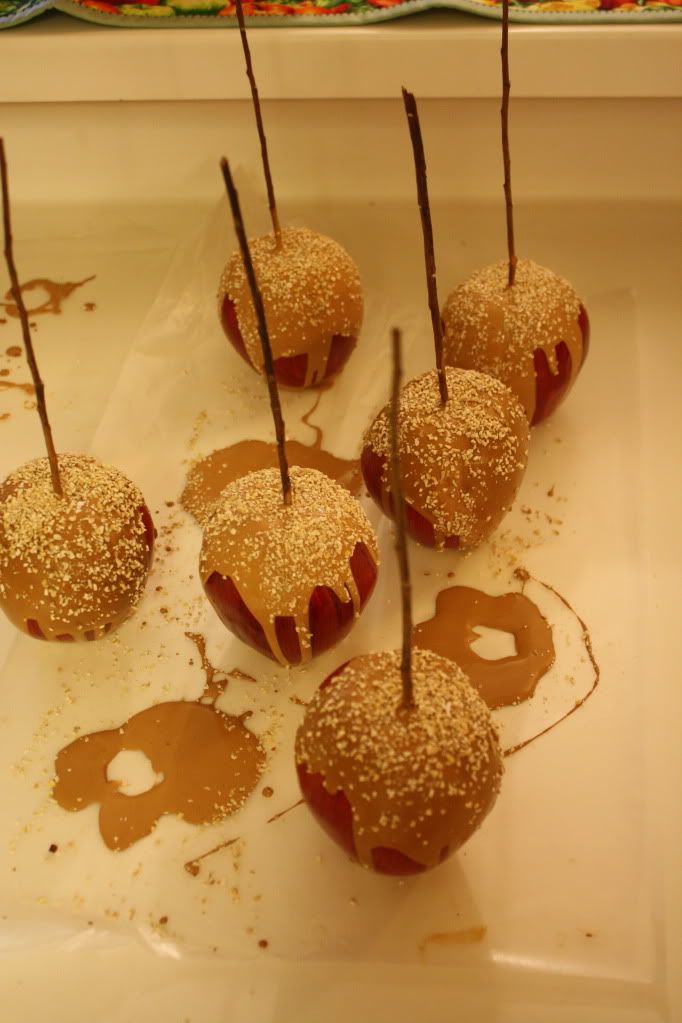 Do this part on wax paper. You should move them every half hour or so until they get pretty dry. See how the paint pools around the bottom. If you don't move them it will be hard to take them off the waxed paper. Don't ask how I know this either. Now all they have to do is dry!
Now you could add ribbon, or use something like puffy paint to to create those super duper caramel apples that have chocolate and the such. Like this kind:
I however, in both my decorating and food tastes like things simple, so these will be mine:
I might have made a few of these, and there maaaaaaay be a giveaway to come....I'm just sayin'.....